Custom Bead Jewelry
With over 100 styles and types of beads to choose from, Emily Gems will create a custom bracelet just for you.
These bracelets typically include 15 - 20 genuine gemstone beads in a variety of stones that are chosen for their particular energy. Choose from some of our most popular custom bracelets below.
Bracelets in photos represent stones/color and actual bracelet design may vary.
---
ALLOW 5-10 DAYS FOR DELIVERY. Please add a note at the comments section in your shopping cart when checking out if you have a stones preference.
---
Abundance Bracelet
Moss Agate is beneficial to everyone - a stone of abundance, stability, grounding. Wear this for successful persistence and certainty in achieving your goals!
Personal Power Bead Bracelet
The custom personal power bracelet will typically include a combination of Coral for life essence, garnet for strength, amethyst for your spiritual advancement.
Love Bead Bracelet
Wear this to draw love to you.
Good Luck Bead Bracelet
The custom lucky bead bracelet is great for wearing to the casino for extra luck!
Protection Bead Bracelet
The custom protection bead bracelet is made from a combination of protection stones.
Zodiac Bead Bracelet
The custom zodiac bead bracelet is designed with your planetary stone, your sun sign stone and your element stone. Please include a note at checkout telling us your zodiac sign so that we can choose stones that are most beneficial to your birth sign.
Money Bead Bracelet
Wear the custom money bead bracelet to enhance money attraction.
New Start Bead Bracelet
Wear the new start bracelet when you are beginning a new job or starting any new endeavor in your life.
Angel Bead Bracelet
The Angel stones are used to inspire divine guidance, make a connection with your guardian angel or to seek any heavenly connection. These typically include Angelite, Mangano Calcite, Blue Calcite or Crystal Quartz.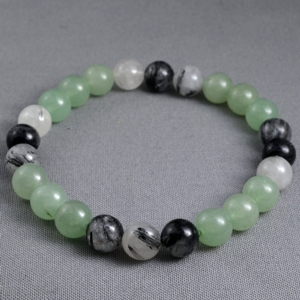 Custom Money Bracelet...$29.99
This bracelet was made with tourmalated quartz and aventurine. Stretch.

Custom Chakra Balancing Bracelets...$29.99
Clear and balance the chakras with these custom bracelets...see them here.
---