XL Lodalite Standing Polished Point 1 1/4" $21.00
XL Lodalite Standing Polished Point 3/4" $15.00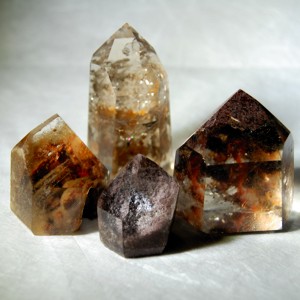 Lodalite Standing Polished Point
large 1 1/4" - 2" ; small 3/4" - 1"
---
ships within 48 hours
see sizes listed at photo
Clear with many colored inclusions - each crystal is different
$3.99
Tumbled Lodalite 3/4"

Tumbled Lodalite stone
Lodalite: Shamanic Dream Crystals
These enchanted crystals contain lodalite formed many millions of years ago in only one location, the Minas Gerais area of Brazil.
These very powerful journeying crystals are used by shamans to induce visionary experiences and healings. Meditation with a dream crystal is said to bring transformation on many levels.
The soft patterns within each crystal remind one of an underwater scene in another world.
No two are alike.