Amethyst Earrings SR558
---
ships within 48 hours
Purple
sterling silver setting
Power, Protection, Healing

Amethyst Earrings 435
---

Amethyst with Peridot Earrings WGS202
---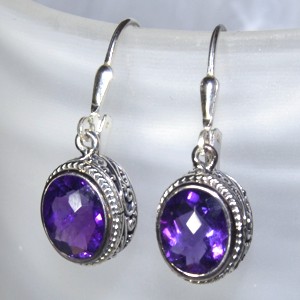 Amethyst Earrings SR27
---

Amethyst Earrings SR382
---

Amethyst with Sapphire Earrings SR2
Rhodium Plated Sterling Silver
Size: 1"
---

Amethyst & White Topaz Earrings SR381
---

Amethyst Earrings SR131
---

Amethyst with Topaz & Mother of Pearl Earrings SR3
---
Amethyst Earrings
Amethyst is an extremely powerful and protective stone with high spiritual vibrations.
Amethyst balances emotional highs and lows
Promotes love of the Divine
Brings about spiritual wisdom
Opens intuition and psychic gifts
No claims are made. These alleged powers are gathered from writing, books, folklore and various sources.