HOPPING Kamababa Jasper $19.98
Hopping Kamababa Jasper Rabbit
2 1/4" long
---
Rabbit: symbol of love, fertility, vigilance
The rabbit was one of the favorite animals of the Greek goddess of love, Aphrodite. Being a symbol of fertility, the Rabbit is very beneficial to woman. The Rabbit is a symbol of faith for several religions.
Lucky Rabbit
The rabbit is very lucky in love. Keep a rabbit close to help overcome fear. The rabbit is the symbol of vigilance.
Rabbit Totem
The Rabbit survives by its wits and is a quick thinker. He is often associated with timidity and fear. This can remind us to move forward despite our fears and use our intuition to get through difficult situations.
SITTING BLACK OBSIDIAN $19.98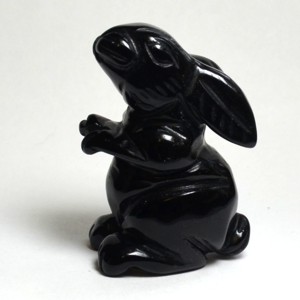 Sitting Black Obsidian Rabbit
2 1/4" tall
---