Aventurine and Crystal
8mm Bead Bracelet $19.99

Aventurine 8mm Bead Bracelet...$19.99
This bracelet was made with Aventurine and Crystal Quartz
---
Personal Prosperity Bracelet $29.99

Custom Personal Prosperity Bracelet...$29.99

This bracelet is made with Aventurine, Malachite and Crystal Quartz. Stretch.
---
$45.00

BDBR-111-449
Aventurine

Hematite and Aventurine #449
Lucky
---
ships within 48 hours
Aventurine Bracelets
Wear Aventurine to:
Encourage a positive attitude
Bring good luck and fortune
Open new opportunities
Balance the Heart Chakra
Good Luck Bracelet $29.99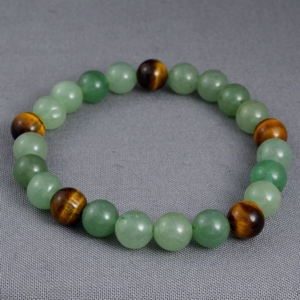 Aventurine Good Luck Bracelet...$29.99
This bracelet was made with Aventurine Tiger Eye. Stretch.
---
$9.99

Bracelet Aventurine Chunky Chip

Aventurine Chunky Chip Stretch Bracelet...$19.99
---
No claims are made. These alleged powers are gathered from writing, books, folklore and various sources.