Rough Watermelon Tourmaline
extra quality from Ibadan, Nigeria
see available slices below
sold individually
ships within 48 hours
$900.00
$750.00
ON SALE
#334 one available

Rough Nigerian Watermelon Tourmaline #334
.8" x .5" ; 6.4 grams
---
$820.00
$700.00
ON SALE
#335 one available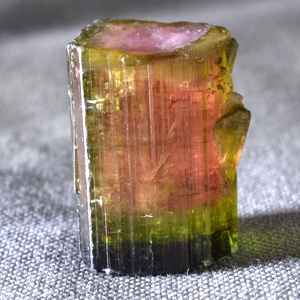 Rough Nigerian Watermelon Tourmaline #335
.7" x .5" ; 5.8 grams
---
$520.00
$400.00
ON SALE
#338 one available

Rough Nigerian Watermelon Tourmaline #338
.8" x .4" ; 3.8 grams
---
Rough Nigerian Watermelon Tourmaline
Some of the best Watermelon Tourmaline comes from Nigeria, specifically in the mines just north of the city of Ibadan. We were quite lucky to find such nice specimens available to us! Each piece is one of a kind!

The watermelon tourmaline is a rare variety that displays three different colors in the same crystal - green (the skin of the watermelon), pink (the sweet fruit) and white (the rind). As in the gem stone ametrine, the colors of the watermelon tourmaline occur 100% naturally. This is a rare occurence in nature.
What watermelon tourmaline can do for you
Attract love
Balance the male and female energies within yourself
Remove imbalances (and guilt) caused by conflicts and confusions
The green part feeds your life force, while the pink soothes and harmonizes
Healing properties of watermelon tourmaline
All of the tourmalines are used for their strong healing energies. The watermelon variety is used by crystal healers to encourage a calm, centered state of mind.
$700.00
$575.00
ON SALE
#336 one available

Rough Nigerian Watermelon Tourmaline #336
1.1" x .4" ; 4.9 grams
---
$520.00
$400.00
ON SALE
#337 one available

Rough Nigerian Watermelon Tourmaline #337
1.1" x .4" ; 3.7 grams
---