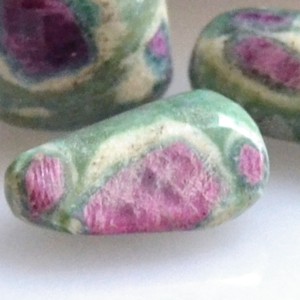 Ruby in Fuchsite
approx. 1"
---
ships within
48 hours
see size at photo
Ruby in Fuchsite (Green Muscovite)
Ruby is considered to be the most powerful gem in the universe, and is associated with many astral signs. To own a ruby is said to have contentment and peace. Given as a gift, the ruby is a symbol of friendship and love. The ruby is also the symbol of vitality and royalty.
Fuchsite is the green variety of muscovite and carries the properties of muscovite - inspiration, problem solving, intuition, etc. As a heart chakra stone, it links the intellect of the mind with the heart.
Fuchsite allows one to use the gifts of the mind, guided by the heart.
Ruby and Fushchite together make a powerful combination!