To Have More Money - Keep It Moving!
Money is energy.
...and in order to have plenty of it, you should understand how motion plays an important role in the money that flows toward you.
Life teaches us that nothing ever stays the same - the essence of life is energy and energy creates change constantly. In order to keep money flowing in towards you, you should keep it moving in a forward direction...
Items needed:
5 One dollar bills or paper money in your currency
5 gemstones (any combination of assorted stones such as smokey quartz, aventurine, citrine, agate, carnelian, etc.)
Sea Salt
Bag for stones
Perform this ritual on any Thursday.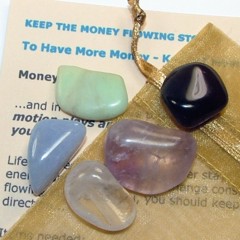 Stone Kit: Keep It Moving Money Ritual
Includes: Instructions, amulet bag, 5 randomly chosen assorted gemstones. Photo does not necessarily depict the stones you will receive.
$9.99